New series: What is mission?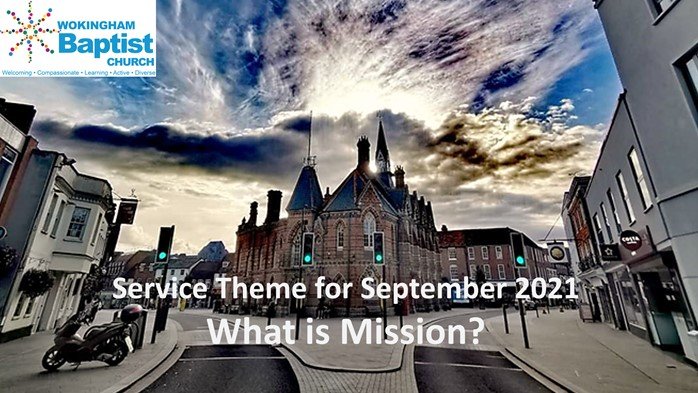 For our Sunday services in September we will be focusing on a crucial question: What is Mission?
It has been famously said "It's not that the church of God has a mission, but that the God of mission has a church". In other words, our God is a missionary God. So it's not for us as a local church to decide what our mission might be. It's for us to understand what our God of mission is doing and join in with Him.
This September we are launching our 3rd Sunday Missional Groups initiative, in which we will be encouraging each other to gather in groups to engage in missional activity together, out and about in our community.
To help us understand what this might involve and what it could look like, in this series we will explore four aspects of God's on-going mission to the world that He made and that He loves; the world that God loved so much that He sent His only Son into it. The world in which, by His Spirit, He is actively at work today, right here in Wokingham.
Sunday 5th September
Together
What is mission? #1: Mission is creation care Romans 8:18-21
All Age Service - Climate Sunday Focus
Sunday 12th September
Gather Renew Inspire
What is mission? #2: Mission is enabling human flourishing John 10:10, Jeremiah 29:4-7
Communion – Creche for 0-2s and Groups for 3-18s
Sunday 19th September - "3rd Sunday"
Missional groups
@ various venues around town. See your news sheet for details.
Explore
10am in the Sanctuary – for younger children and their families.
Connect & Reflect
What is mission? #3: Mission is making disciples of Jesus Matthew 28:18-20, 1 Corinthians 9: 16b-23
10.30 in the hall. A simplified, interactive service. The talk will also be available as part of a pre-recorded video on YouTube.
Evening Communion
6.30pm in the Sanctuary – a reflective service.
Sunday 26th September
Gather Renew Inspire
What is mission? #4: Mission is serving those in need John 20:21 and Luke 4: 14-21
Creche for 0-2s and Groups for 3-18s. It is a joy that the service will include an infant dedication.