Praying for Peace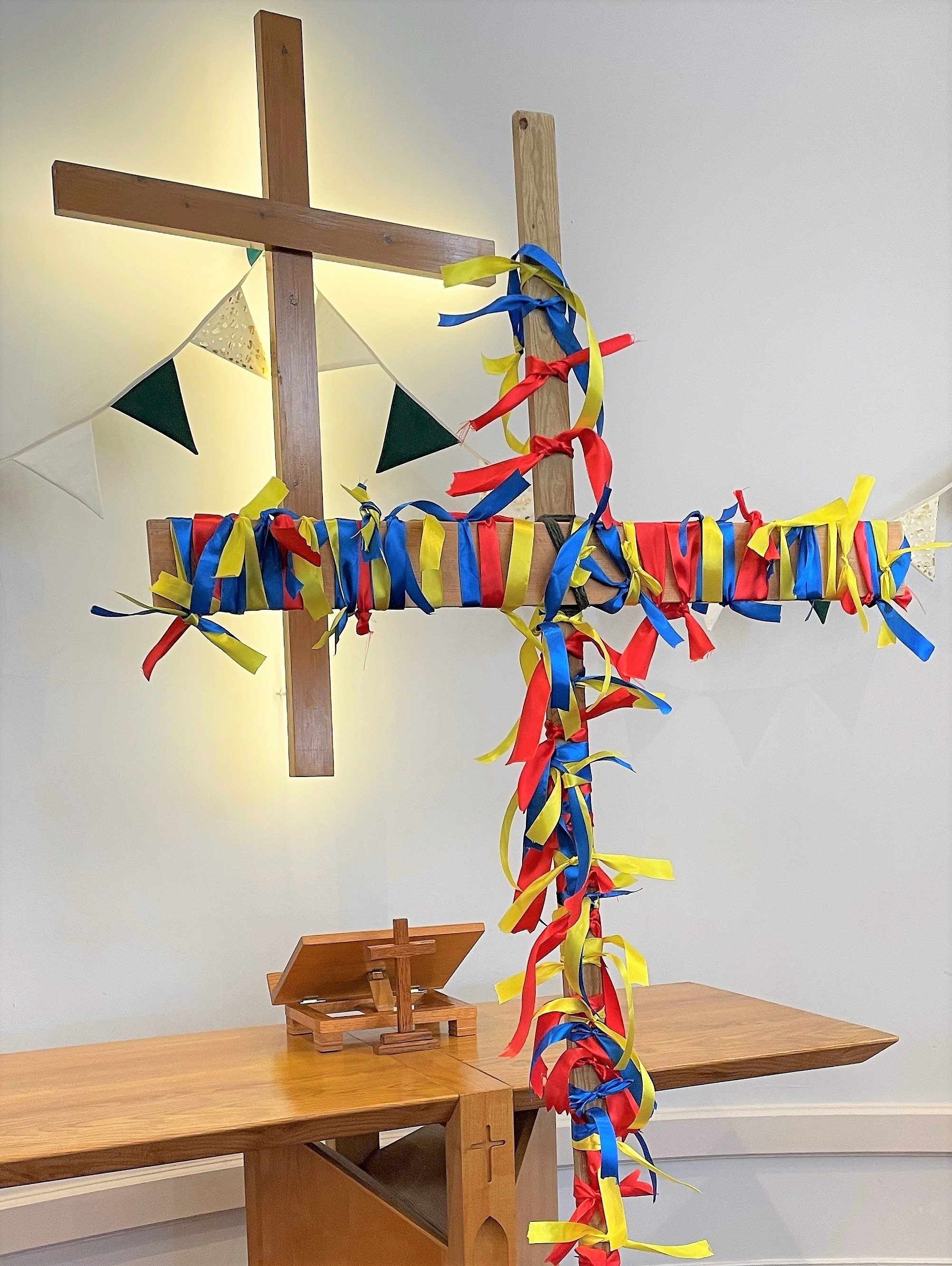 I urge, then, first of all, that petitions, prayers, intercession and thanksgiving be made for all people – for kings and all those in authority, that we may live peaceful and quiet lives in all godliness and holiness. 1 Timothy 2:1–2
In this morning's service we prayed for Ukraine and added blue and yellow ribbons to the cross to symbolise our prayers. (The red ribbons were from last week's service when we were reflecting on sacrificial love.)
You might find this short piece about how we might begin to pray helpful: Crisis in Ukraine
If you're wondering how to respond to the crisis in Ukraine in a practical way, here's some advice from the European Baptist Federation about how best to do so, namely through giving cash, for example via EBF or BMS World Mission. Many Baptist churches in neighbouring countries are on the front line of supporting refugees, as you may have seen on the news. Tony Peck of the EBF says this:
Can I make a plea for churches and individuals to send cash rather than goods to Ukraine. Whilst fully understanding that people want to come together and do something, the reality is that it is now very difficult, and may soon be impossible, for humanitarian aid to reach Ukraine. Though of course it is good to support in practical ways the relief efforts by Polish, Hungarian, Romanian and Slovakian Baptists at the borders. But for both Ukraine and the border relief efforts it is better to send money. You can do this on the EBF or BMS websites and then there is the flexibility to find the very best way to aid the suffering people of Ukraine through the ministry of our Baptist churches.
You can give via BMS World Mission here. They are in touch with longstanding partners in the region who will know best how to respond to emerging needs.
Or, go on to the EBF website here for information on how to give via them, and also how to join the special prayer time for Ukraine on Wednesday at 6pm each week during March.
---